Timothy Tiberius Turner
Gender:
Male
Species:
Human
Age:
23
Birthday:
March 21, 1992
Hair color:

     

Brown
Eye color:

     

Blue
The Grown Up Timothy Tiberius "Timmy" Turner is the central character of the television movie A Fairly Odd Movie: Grow Up, Timmy Turner!. He is 23 years old, but still acts like a child to keep his fairy godfamily, Cosmo, Wanda, and Poof. The live-action version of Timmy Turner is portrayed by Drake Bell.
Timmy Turner just might be the oldest 5th grader around (he's 23!) but he's still a kid at heart. According to "Da Rules" Timmy must remain a kid to keep his Fairy Godparents around. Can you blame him for not wanting to give up these two awesomely magical guardians? But Timmy is faced with a big decision to grow up or say good-bye to Cosmo and Wanda.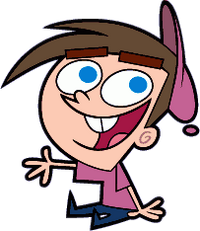 Timmy is already 23 years and he still likes wearing pink clothes.
Timmy doesn't have his buck teeth, although many animated versions of him being adult shows him with his buck teeth.
Timmy says he has been in 5th grade for 13 years with Mr. Crocker. This is not true; since 13 years ago would lead back to the animated episode "Timmy's Secret Wish!" so technically he stayed in his class for 63 years.
This article is under construction.

This article is currently in the middle of an expansion or major revamping. You can help the FOP Wiki by contributing to it.
Community content is available under
CC-BY-SA
unless otherwise noted.